Burkea africana Kwekery kweek en verskaf top gehalte organiese pekan boompies
met die uitsluitlike doel om die hoogste
opbrengs vir Pekan Produsente (die pekan boer) te verseker.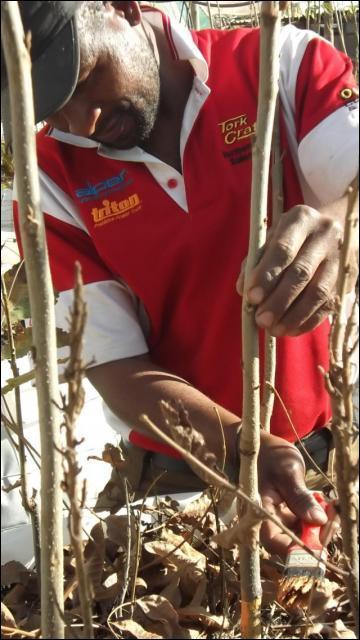 Burkea africana Kwekery is geregistreer by die Suid Afrikaanse Pekan Produsente Vereniging (South African Pecan Producers Association) en voldoen aan al SAPPA se standaarde.
Ons pekan boompies word organies gekweek en met sorg vir 3 tot 4 jaar versorg, wat verseker dat ons pekan boompies 'n uitstekende oorlewingsratio het.
Die variëteite waarin ons spesialiseer is almal kommersieële kultivars, wat as 'n kombinasie in 'n boord, uitstekende opbrengste lewer, asook risiko's op verskeie aspekte tot 'n minimum beperk. Dit bestaan uit die volgende kultivars:
Choctaw, Oconee, Witchita, Barton, Navaho.
Deur die jare het ons kwekery 'n reputasie opgebou as verskaffer van puik gehalte pekan boompies asook vir die gratis nasorg diens aan produsente wat vir hulle van ontskatbare waarde is.

Agtergrond Geskiedenis
In die jaar 1999 het Tryntje en haar dogter Marlene op 'n klein plasie in die Boekenhoutskloofdrift Cullinan distrik afgekom en dadelik gevoel dat dit die plek vir hulle was. Wat was die groot aantrekkingskrag? Die pragtige inheemse bome en ander plante wat in oorvloed daar gegroei het. Die naam van die kwekery wat daar sou wortel skiet kon dus nie anders as om die Burkea africana (inheemse sering) te vereer nie.
Die kwekery se begin was baie nederig aangesien skuld-maak nie 'n opsie was nie. Tryntje het elke dag van Pretoria af gery om in die kwekery te kom werk sonder hulp omdat arbeid op daardie stadium nie bekostig kon word nie.
Hulle het geskoffel, gesif, geplant en alles gedoen wat nodig was om elke boompies met sorg te laat groei.
Gedurende 2003 is Marlene oorlede. Van hier af moes Tryntje alle verantwoordelikheid neem vir die kwekery, wat darem op daardie stadium al vier arbeiders in diens gehad het, danksy die goedgunstigheid van Tryntje se man, Tjaart Buys, wat al die kostes gedra het.
Tryntje het nagte spandeer om soveel van Pekans te leer as wat sy kon sodat sy sinvolle besluite kon neem wanneer sy kliënte moes bystaan en adviseer om boorde te vestig wat maksimum opbrengste sou kon lewer aangesien dit 'n groot kapitale uitleg is en die bome vir die volgende geslagte nog daar sal staan.
Op 'n stadiium moes Tryntje op haar eie op die kwekery gaan woon omdat dit onprakties en onveilig was om elke dag die pad Pretoria toe en terug aan te durf. Een en 'n half jaar later het Tjaart en Ryan (Marlene se seun) by haar aangesluit en het hulle die voorreg gehad vir die volgende jaar heerlik saam op Burkea africana te woon totdat Tjaar ook daar oorlede is.
Later is Tryntje met haar tweede man, Hannes Muller getroud. Hannes het saam met Tryntje betrokke geraak by die kwekery en hulle het mekaar wonderlik aangevul in alle fasette van die kwekery. Dit was 'n baie groot voorreg vir Trynjte om Hannes saam met haar op Burkea africana Kwekery te hê. Ongelukkig was hul tydjie saam van korte duur. Op 19 September 2011 het Hannes sy lewe verloor tydens 'n veldbrand wat die kwekery en boorde bedreig het en nadat hulle van die oggend vroeg gespook het om alles teen die vuur te beskerm, is Hannes om 14h30 die middag deur die vuur oorweldig en is hy daar tussen die pekans waarvoor hy soveel gevoel het, oorlede.
Die moeilike pad wat Tryntje oor die jare geloop het en die prys wat sy betaal het asook die opofferrings wat sy gemaak het, het haar net 'n groter passie vir die pekan boompies gegee. Hierdie passie het veroorsaak dat Tryntje net die beste kwaliteit boompies aan produsente en ander kliënte verskaf.
In Tryntje se eie woorde, " Ek wil die boompies graag verskaf aan mense wat omgee vir dit wat hulle by my koop. Dit breek my hart wanneer ek sien dat die boompies waarvoor ek soveel gegee het, aan hul eie genade oorgelaat word. Niks maak my gelukkiger as terugvoer en foto's van gelukkige eienaars van die boompies wat hulle by Burkea africana Kwekery ontvang het."
Verder sê Tryntje, "Ons beskou elke persoon wat by ons pekan boompies koop, as belangrik genoeg om die beste diens van ons te kry, ongeag of hulle een of duisende boompies koop. Ons verwelkom enige terugvoer sodat ons steeds kan verbeter op ons produk, asook ons voor- en na-verkoop diens (wat beskikbaar is vir kopers wat reeds 'n bestelling geplaas het)."
Burkea africana Kwekery se boompies word sonder gebruik van enige gifstowwe en sovêr moontlik organies gekweek aangesien Tryntje die grond in 'n beter toestand wil nalaat as wat sy dit gekry het maar ook terwille van haarself en kopers waarvoor dit belangrik is.
Vandag is Burkea africana Kwekery bekend by baie pekan produsente met 'n reputasie van uitnemendheid en goedwilligheid, skaars in die bedryf.